Requests for use of Webex (CMR Cloud)
Outline of Webex (CMR Cloud)
It permits conferencing with remote locations using an Internet browser, a smart phone or a tablet, plus a video conference terminal.
Please use it for conferences with other campuses or to interview students who are outside Japan.
Please examine the following illustration which provides an outline of the Conference System.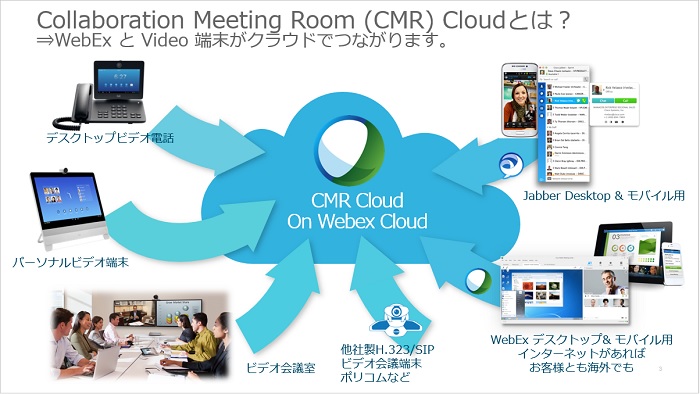 Request procedure
* CMR Cloud service can be requested only by faculty members.
Check the state of reservations of the Web conference room. Only request times which are indicated to be open on the calendar. * It is necessary to log in to keio.jp.
Make your request by filling in the necessary items on the request form.
The person in charge will send you an e-mail informing you if you can or cannot use the service. Check the CMR Cloud Users Manual for the usage procedure following this e-mail.
Precautions
There are now three Web Conference Rooms (3 accounts) available for use.
Please reserve according only to your needs so that as many people as possible can use the service.
Please understand, that in principle, one conference continues less than 1 to 2 hours as the standard.
Please make your request well in advance with three business days before the conference day as the standard. It may be impossible to accept last minute requests (on the day, the day before, etc.).

When you hold the conference, please do not allow it to run longer than the requested time period.
If your conference has not been completed within the requested time, the manager may stop the conference.
System requirements
When used from a PC
OS: Windows 8.1/10, Macintosh, Linux(Only partial distribution)
Supported browsers: Internet Explorer、Firefox、Google Chrome、Safari


* Please prepare a head set or Web camera as necessary.

When used from a smart phone or a tablet
Please install and use one of the following specialized applications.


When used from a TV conference unit
Video Conference Terminal Operating Confirmation Table


| Maker | Model | Version | Usable | Remarks |
| --- | --- | --- | --- | --- |
| Cisco | MX200/300 | 7.x | ○ | |
| Cisco | C20/40/60/90 | 7.x | ○ | |
| Cisco | SX20 | 7.x | ○ | |
| Cisco | EX60/EX90 | 7.x | ○ | |
| Polycom | HDX | 3.1.4 | ○ | |
| Polycom | Polycom RealPresence Group Series | 4.1.5 | ○ | |
| Sony | PCS Series | - | × | |

1. The above are terminals that whose operation the ITC has confirmed.
2. Refer to the following page operated by Cisco.
https://jajp.help.webex.com/docs/DOC-6428
3 To [share documents], an RGB or similar interface is necessary.
4 The maximum number of connections that can be made to the CMR Cloud service provided is: 25 video terminals + 25 PCs.
Inquiries
E-mail answers to inquiries may be delayed after 5:00 pm on weekdays, on Saturdays, Sundays, national holidays, and school holidays.
Last-Modified: January 21, 2020
The content ends at this position.