Zoom - Web Conference System
Zoom
Zoom is a web-based conferencing service provided by Zoom Video Communications.
Keio University has concluded an organizational contract with Zoom, and it is now known as the Keio Tenant.
A predetermined number of licenses and options have been allocated to the Keio Tenant, and operations are carried out in association with Keio IDs.
Prerequisite for Usage
In addition to conditions within the university, various other environmental conditions, such as the operational status of Zoom, the status of the PCs and other equipment used by both hosting and receiving parties, and the status of the organizational networks involved between these parties, may affect the operability of meetings and webinars on the day of use. Familiarize yourself with the methods of handling problems and consider using alternative applications in advance to prepare for this.
License Eligibility
Faculty Members
The main reason for adopting the system is to provide support for distance learning.
Note that limitations on the number of licenses available means that not all faculty and staff members are eligible for the use of the system.
The system is provided mainly to full-time faculty members and part-time faculty members who are teaching classes.
Students
Licenses will also be available for students.
You will be provided with more information on this when it is ready.
Supplement
Licenses are required to host meetings on Zoom, although licenses are not needed when participating in meetings hosted by other people.
There are cases in which people who are not eligible to receive licenses will be issued with Zoom licenses for the purpose of assisting the work of license holders (hosting proxy meetings, etc.). See here for further details.
Access
Procedures
Sign out if you are using Zoom under another existing tenant.
Access the Keio Tenant (https://keio-univ.zoom.us/) on the Zoom site with a web browser.
Click on the [Sign in] button to move across to the keio.jp authentication screen, and then verify your own Keio ID.
Move across to the Zoom Keio Tenant's official profile screen.
If the above procedure fails
If the screen does not move across to the official profile screen and a message stating [Something went wrong while you tried signing in with SSO] is displayed, any of the following may be the cause.
The Zoom Keio Tenant has been activated for at least the following business day or later with keio.jp activation. It is not activated at the same time you obtain a Keio ID.
As mentioned earlier, not all faculty and staff members are eligible for the use of the system. There is a possibility that you are not eligible.
Students have not yet been provided with this method of sign in.
General Conditions for Use
The standard conditions for use are as follows for Keio Tenant registrants.
The service can only be used for meetings. A maximum of 300 people may participate, and there are no time restrictions.
Do not change the sign-in e-mail address from the Keio ID.
The period for storing data saved with the cloud recording function is 120 days.

Applying for Options
The Keio Tenant is in possession of large 500-capacity meeting, large 1,000-capacity meeting (small amount) and 1,000-capacity webinar (small amount) options.
The Keio ID's of applicants who submit applications will be allotted the options.
The reason for usage will be confirmed. Note that requests may be refused depending on the reason for usage.
The number of licenses available for the 1,000 large meetings and 1,000 webinars is very much limited, and they are shared out by the Keio Tenant. Note that requests for long-term possession will not be possible in principle.
Option applications must be submitted at least three business days prior to the commencement of usage.
Applicants will be notified by e-mail when all procedures for setting the option have been completed.
The options will be cancelled without notification after the scheduled day of use. Note that options that remain active may be cancelled unexpectedly, so you are requested to submit an application for each meeting if necessary.
The options will be cancelled without notification after the scheduled day of use.
We have received applications for the 2021 academic year submitted on the old forms between February and March, 2021. It is not necessary to reissue applications.
It is possible to check the status of option settings here.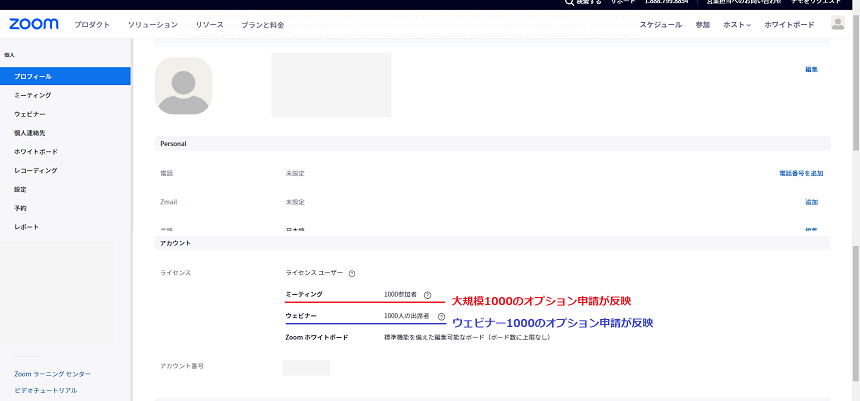 Large Meeting Options
Large meeting options allow us to increase the number of participants beyond the limit.
The limit for normal meeting participants is 300, but we have options that allow this to be increased to 500 and 1,000 participants.
These will become valid when meetings are held (not scheduled times) to alleviate the limit on participant numbers.
If meetings with a capacity limit of 500 participants are required in the long-term due to reasons such as class admission quotas, for example, we will accept applications for 500-capacity options in half-term units.
The Keio Tenant is only in possession of a limited number of large 1,000-capacity options. You are requested to make use of these on a give-and-take basis.
Apply for large 500-capacity options from here: Large 500-Capacity Option Application Form (2021 Academic Year)
Apply for large 1,000-capacity options from here: Large 1,000-Capacity Option Application Form (2021 Academic Year)
Webinar options
Webinar options can be used for holding lecture-type webinars, not meetings. 1,000-capacity webinar options enable webinars with a maximum of 1,000 participants to be hosted.
The Keio Tenant is only in possession of a limited number of 1,000-capacity webinar options. You are requested to make use of these on a give-and-take basis.
URLs for webinars need to be posted as early as possible, so it is necessary to set up schedules in alignment with this. Also, prior preparations and operations during webinar hosting differ greatly with meetings, so advance testing will be required (especially if holding webinars for the first time). Because of this, options will be allocated no earlier than six weeks prior to the scheduled date of hosting, as a general rule.
Apply for 1,000-Webinar options from here: 1,000-Webinar Options Application Form (2021 Academic Year)
Notes
If error screens are displayed, it is probably due to one of the reasons listed below.
If the wrong password is entered repeatedly over a short period of time, access will be locked for thirty minutes. If this error screen is displayed, this is probably the reason.
The same error screen will be displayed if the Keio ID being used is not included in the Zoom Keio Tenant. The reasons for this are either the ID is not included as an eligible user, or a sufficient amount of time has not elapsed since acquiring the Keio ID.
We apologize if this screen is not very clear, but request you to make your decision based on the situation.
When sending inquiries to the Information Technology Center (ITC), include the tracking ID displayed on the error screen.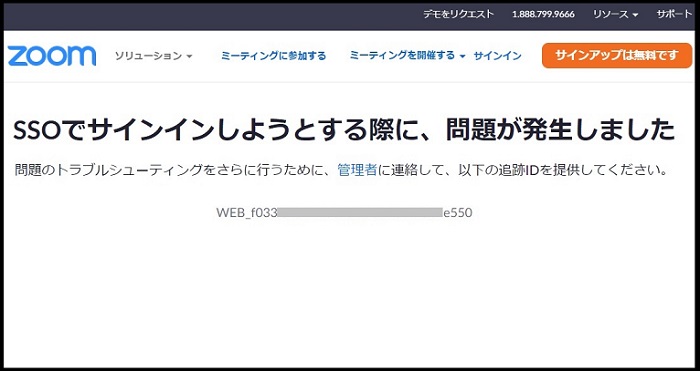 Reference Information
Access the sites listed below for details on operations.
Last-Modified: July 7, 2021
The content ends at this position.