Before sending emails
Normally, you should sign an email in the same way as you would write your name and address when you send a letter.
To save having to do this each time you compose an email, Google Workspace(formerly G Suite) Gmail allows you to prepare an email signature ahead of time.
You should use a signature that shows your name clearly to avoid having your emails mixed up with spam.




Log into the Gmail, and then click gear icon in the top right corner.
Click "See all settings".




Next, click "Create new" buttom in the "Signature:" section in the "General"(see Fig. 1), and enter your signature in the text box. Once you have entered your signature, click the "Save changes" at the bottom of the screen to save your signature.
People who have set multiple sender email addresses can set signatures for each email address.
If you are going to be sending a lot of emails overseas, using Roman letters only for your signature will prevent kanji characters from not displaying properly for the recipient.


Fig. 1 Setting a signature

Setting a signature like this will mean that every time you write an email, your signature will be pre-appended to the end of the email.

Signature example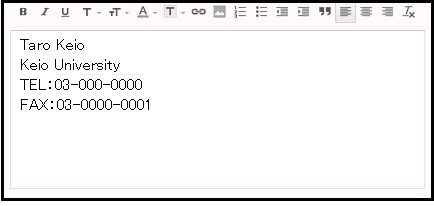 Continue to explanation about Composing and sending new emails.
Return to Basic Gmail operations for explanations about other features.
Last-Modified: November 8, 2021
The content ends at this position.