"Keio Mail" forwarding service for anybody who left from Keio University
After you left from Keio University due to graduation, completion or retirement etc., you can use 1-year "Keio Mail" forwarding service.
Service
one year mail forwarding service
It can set up and change also after removed member(The mail received in the past cannot be forwarded.)
When a fowarding setup is being performed from the enrollment time, the contents of a setting are succeeded.
During the fowarding, it will become one year after removed(Although it can choose to three-year after on a setting screen, it is service only for one year.)
mailing list management(ML)
Edit of a management mailing list
The check of the mailing list which has participated
Setting method
When you log into the keio.jp Web mail service.https://webmail.keio.jp/
A window for configuring email forwarding will appear(WEB mail function cannot be used).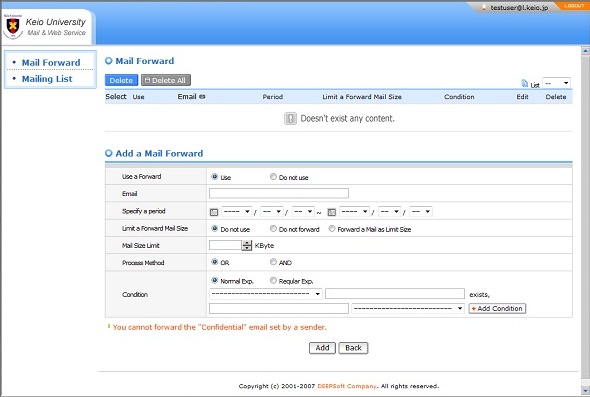 How to forward all the email that arrives at your Keio ID.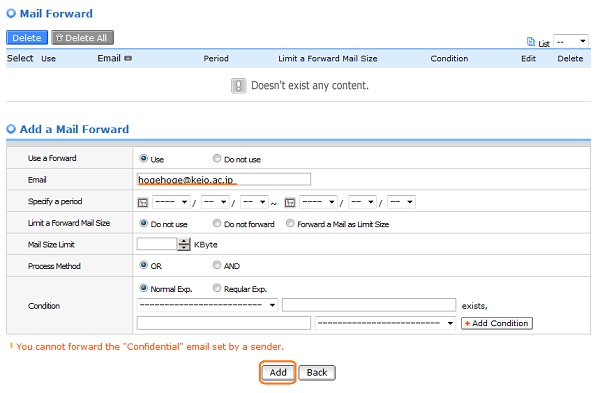 Use/Do not use: Select [Use].
Target email address: Enter the email address to which email messages are to be forwarded.
When you are done, click [Add].
Various configurations are possible for email forwarding, such as specifying the time period, targeting only email messages that contain particular character(s) in the From and Subject fields, or combining multiple criteria.
For details, please refer to this manual.keio.jp FAQ
Notes
How to forward email messages to a mobile phone or PHS (Personal Handyphone System) device.
Make sure that blocking of email from non-mobile mail addresses is turned off before starting the setup. For setting details, consult with your mobile phone or PHS (Personal Handyphone System) carrier.
About the loop of e-mail
If setup forwarding address to keio.jp is carried out to the address of the destination, the loop of e-mail will happen.
Editing, canceling and deleting forwarding configurations
If a setup is completed, it appears in the list, as shown in the following figure.

How to edit a setting
Click Pencil mark

to the right of the condition you want to edit. When the details are shown, edit the configuration as required.
How to cancel a setting
If you want to temporarily cancel a forwarding setting (while retaining the original settings), click ON-mark

on the left. When the icon changes to OFF-mark

the cancellation is complete.
How to delete a setting
Click Garbage can mark

to the right of the setting. If the setting disappears from the list, the deletion is complete.
How to delete multiple settings
Select the checkbox on the left of each of the settings you want to delete, and click [Selective Deletion].

Last-Modified: February 20, 2015
The content ends at this position.